Seiya Kanie (可児江 西也, Kanie Seiya?) is the main male protagonist of Amagi Brilliant Park series. Seiya is a sharp-witted, intelligent, coordinated, and self-righteous high school student. One day, a beautiful mysterious transfer student called Isuzu Sento, of the Royal Guard, threatens him with her Magic Gun "Steinberger" to accompany her to the amusement park. As the date comes to an end, Isuzu introduces Seiya to a girl called Latifa Fleuranza, who asks him to be the manager of the amusement park―Amagi Brilliant Park, with his job demanding the park's revival.
Appearance
Seiya is a young man with a tall build, short dark brown hair, and golden eyes. According to Isuzu (and Seiya himself), Seiya is considered to be handsome. When Seiya became a manager, he started to wear a dark blue jacket with golden accents, gold aiguillettes worn on the right shoulder, a red tie, gray pants, and a red armband around his left arm. His armband reads: 支配人 (Shihainin), which means "manager". When he wears casual clothes, he is trendy, which could be because of his history in the entertainment industry.
Personality
Due to his past as a child star, Seiya has developed a major superiority complex as seen when he looks at himself in a mirror and admires his own looks. This narcissistic behavior is seen again as in his first meeting of them and the park, he looked down on all of the park workers for their poor talent and eccentric behaviors.
Despite that, he is very intelligent and is an honor student at his school. Due to his arrogant and narcissistic personality, many people have always turned away from him as a result which is why he does not have any friends in high school, however he is popular with girls. He dislikes flirting with any particular girl because it betrays his style of remaining cool and casual. Because of this attitude, he is still single because of this and is embarrassed by this. However, he has been shown to attract the affections of Isuzu Sento and Shiina Chūjō who are both able to look past his nature and see a good side to him.
Despite his large ego, he is actually a hardworking and dedicated character who is willing to do anything for Amagi Brilliant Park. This is further proven in episode 4 where he states that "Trivial setbacks are nothing but common occurrences in everyday life, therefore you should not get hung over on them." It is shown that he does possess compassion as in episode 12, as he worked hard to prevent the park from being shut down, he was happy to see that he saved the park though embarrassed by the hugs he was given. Afterwards he gave a touching speech, while criticizing the park workers for the impression on him in the beginning, he displays a rare moment of expressing compassion and gratitude towards them for always sticking by his side even shedding tears, much to the park's shock and eventual laughter as he was dismayed at this.
In the manga, Isuzu sees him as someone of nature meaning he has the nature of a "rational commander, a cold-hearted tactician" but also "a passionate artist and entertainer aware of what the masses want".
Background
Five years ago, Seiya was involved in the entertainment industry during his childhood and his stage name was Seiya Kodama (児玉 誠也, Kodama Seiya?). According to Isuzu, he was a child who would have made every adult/parent proud. But Seiya had told her that he 'died a long time ago'. At the peak of his popularity as a child actor, he suddenly grew a fear of heights. He states that this can be due to him being afraid of letting his parents down or losing his popularity possibly because of the pressure, but he has yet to understand the reasons. However his choice of quitting showbiz was not directly caused by those fears. He changed his last name from Kyūbu (久武, Kyūbu?) to Kanie after his parents divorced.
In the first episode, it is seen that he has flashbacks of Latifa which implies he has a childhood connection/past with Latifa. He questioned Latifa about this but she could not remember.
He feels that he has been to Amagi Brilliant Park when he was a child, but now that he's a high schooler he cannot recall any of it.
Chronology
Pensé
Relationships
Family
Parents
Not much is known about Seiya's time with his parents but Seiya tried hard to please them as a child star. He changed his last name from Kyūbu (久武?) to Kanie after his parents divorced, showing he wanted to distance himself from them. He also holds a grudge against his father for neglecting him by having another family.
Seiya's aunt (from his father's side) and his guardian. Aisu cares for her nephew a lot though does she find his ways to be conceited and annoying. In spite of his behavior, Aisu displays she wants what's best for him, as shown when she was excited he made an acquaintance out of Isuzu Sento, meaning she wishes for her nephew to be happy with someone. Aisu became even more excited when Seiya acted as manager for the park and was proud to see him losing some of his arrogant ways. She later motivated him to return to the park, as it was somewhere that made him feel happy and he followed her advice and took back his place as manager.
Seiya's younger half-sister born from his father's second marriage. Seiya and his sister have a good sibling relationship, as he deeply cares for her. When he met her again, Seiya boasted about his work at the theme park to her in attempt to impress her which somewhat worked as she was amazed by his tale. He also wants to one day take her to Amaburi one day, this was something she looked forward to.
Amagi Brilliant Park
Because Isuzu is a recent transfer student, they have not known each other for a long time. It's said that they had never interacted before until Isuzu asked him on a "date". When they become acquainted with each other they form a rather volatile and uneasy bond, and they argue quite a lot. However this could also be interpreted as amusing banter. Seiya is clearly wary of Isuzu because she has a tendency to pull out a gun and point it at him. At one point, she fired the gun only centimeters away from his head which terrified him. Isuzu is shown to respect and like Seiya very much and approves of most of his opinions and decisions. Like Latifa, Seiya told her his fear of heights. As the story progresses, Sento begins to grow feelings for Seiya and it appears he feels the same way but doesn't know how to tell her.
Seiya met Latifa as a child when he ended up in the hanging garden where Latifa lives. He found her crying because of her curse and because she was lonely. Seiya tried to make her laugh by doing an impression of a prince. He was unsuccessful and got a pitiful smile from Latifa instead. He swore to her that he'll save her and make her smile one day. In the present day, Seiya has forgotten his promise but get recollections of the past after reuniting with Latifa again. When he becomes the manager of the park, he starts caring for Latifa and ends up sharing personal information about himself such as his fear of heights.
After finding out about Latifa's curse and the possibility of her death if the park closes, he pushes the cast members even more than before, making him further disliked. He remembers their first meeting and tells Moffle his goal to make Latifa smile and that he won't fail twice. Both of them care for each other very much.
Seiya and Moffle's relationship is one of mutual animosity that first started when Seiya delivered his insulting speech in front of every member of the park. Moffle usually dislikes Seiya's way of changing the park particularly if it involves Latifa. A running gag in the series involves Seiya and Moffle engaging in intense fistfights which only end after Isuzu shoots both of them.
Despite their dislike for one another, both begin to develop some begrudging respect towards one another after both show their dedication to Amagi Brilliant Park to one another. Moffle even called Seiya by his first name one time when he saved the park as well as Latifa.
Park Employees
When Seiya first saw the park employees, he arrogantly viewed himself as better than them, even criticizing their way of work and their eccentric personalities. Upon learning they are magical creatures, whose lives would be in danger if the park were to be shut down, he took it upon himself to help rebuild it. At first, he was disliked for his arrogant ways as well as his tendency to overwork them without pay and making important decisions without their consent. Over time, his standing with a majority of them improved greatly and their interaction with him slowly caused to shed some of his stuck-up ways and be more open with them.
When he managed to save the park, many of the park workers thanked him for his actions by hugging him, to his embarrassment. He later gave a speech where he criticizes them (in good fun) for their first impression on him, though they laughed it off. However, Seiya greatly surprised the park when he actually expressed humility and gratitude towards them for all their hard work even shedding tears, while reflecting on them being by his side. This earned a brief silence from them before they laughed that he showed kindness to them, much to his dismay. Seiya soon informed him that he made a business arrangement with a large shopping industry which will keep their park so busy they wouldn't have to worry about shutting down ever again. The park were greatly surprised by this and cried tears of joy that they would be saved. Seiya soon stepped down from manager to their shock but after a talk with his aunt, he saw that he needed them to be happy and returned to work immediately to the park's delight.
Abilities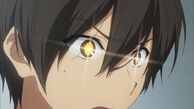 Seiya has the magical power to be able to listen to a person's mind. This power by Latifa when she kissed him. When he activates this power and reads someone's mind, his eyes glow yellow. A weakness of this ability is the power at once with each person that is revealed when Seiya uses his power in Isuzu. He has already used this ability on his guardian Aisu, Isuzu, Rubrum, Takaya Kurisu and the managers of a football team.
Along with this, he is a skilled negotiator as seen in his deals for the park. His talented skill, usually causes others to wonder how someone so young could be so efficient in business deals.
Gallery
Trivia
His name Kanie means yes children in kanji. Seiya, his surname, means star arrow, when written in Kanji. This probably is in reference to how he handles his job as the manager. His given name also has a meaning, which is basically his personality. [<- in fact, Kanie is made up from three characters "capable", "chid" and "bay, inlet", while the name's two characters mean "west" and "to be"; the first two may allude to how capable he is, while the following two "last of the surname and first of the given name) may have something to do with Maple Land, as it exists "between land and water", with the very last one perhaps turning it into a sentence?]
His name is a reference to the rapper Kanye West. Kanie -> Kanye, the kanji for Seiya pretty much means West.
He also shares some traits with Kanye West, mainly the superiority complex, eccentric thinking, and narcissism.
He has a fear of heights, shown in episode 4.
His birthday is on the 10th of August (Shown in the OVA, which may or may not be cannon). Which means his zodiac is a Leo. He shares many traits with Leos, which include great leadership skills and being self-centred.